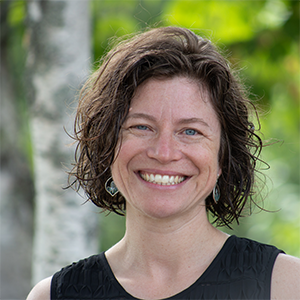 Sarah André, Westbrook, Maine, is the Development Coordinator for Friends of Katahdin Woods and Waters. Growing up in the foothills of western Maine, she spent the bulk of her childhood staring at clouds or stars. She credits her love for hiking, running, and cross-country skiing to her formative years "in the middle of nowhere." While majoring in English at the University of Maine, she found time to explore the Katahdin region and Baxter State Park and study Maine's diverse natural history. Before accepting this role, Sarah worked in development for The Opportunity Alliance, the community action agency for Cumberland County–supporting work tackling poverty, homelessness, mental illness, and substance use. She brings a commitment to social justice and equity to the Friends, with the belief that wild places should be accessible to all. Sarah serves on the board of the Presumpscot Regional Land Trust, and enjoys gardening, family camping trips, and thick books.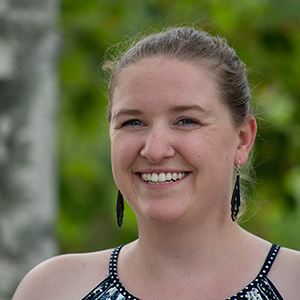 Meghan Cooper, Benedicta, Maine, is the Development Director for Friends of Katahdin Woods and Waters. Growing up in mid-coast Maine, she learned from an early age to appreciate the woods and waters throughout the state and the opportunities for outdoor recreation and learning they provide. Though educational opportunities took Meghan out of state to Vassar College and, soon after, to Azerbaijan, Maine always held a special place in her heart. Before long, she returned to begin a career focused on strengthening Maine's rural communities. She recently worked as an Island Institute Fellow with the Millinocket Memorial Library and Development Program Coordinator with Our Katahdin. Through this work, Meghan grew to know and love the Katahdin Region, devoting herself to supporting opportunities that help others discover Maine's unique assets. In her free time, Meghan enjoys baking, improving her sewing skills, and adventuring in the outdoors with her dog, Annabelle.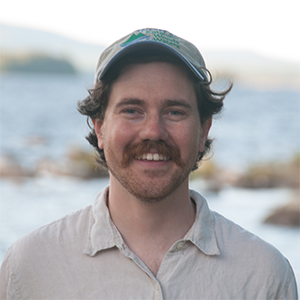 Sam Deeran, Herseytown Township, Maine, is the Projects Director for Friends of Katahdin Woods and Waters. He first got to know the Maine woods as a toddler riding in his mother's backpack through the mountains of the Rangeley region. One of his first jobs was at Birch Rock Camp, from where he led hiking and canoeing trips throughout Maine and New Hampshire. After graduating from Colby College, Sam spent a winter among the mountains of Colorado followed by two years in Chicago. In the summer of 2015, he came back East to campaign through the 2016 election. In his spare time, Sam enjoys cooking, paddling Maine's waters, and looking for mushrooms in the forests of the Rangeley and Katahdin regions (which on good days leads back to the cooking).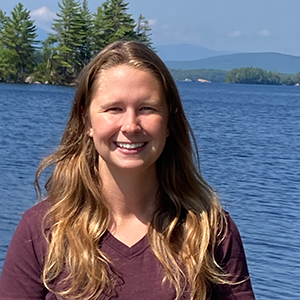 Elise Goplerud, Millinocket, Maine, is the Education Coordinator for Friends of Katahdin Woods and Waters. Elise has a wide-range of career experience in the outdoors including trail work, interpretation, and guiding but realized her passion is educating the next generation of land stewards. She is a Leave No Trace Master Educator, Interpretive Guide and Wilderness First Responder. While earning a degree from the University of Maine in Parks, Recreation and Tourism, she explored Maine by leading trips for the Maine Outing Club. Elise has always loved spending time outside and feels most at home on the shore of a river, surrounded by towering white pines. Her wilderness ethic was strongly shaped by hiking, canoeing and camping in the shadow of Katahdin.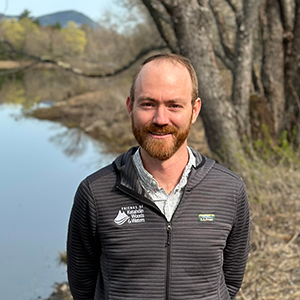 Brian Hinrichs, Bangor, Maine, is the Executive Director for Friends of Katahdin Woods & Waters. He moved to Maine in 2013 to serve as the Executive Director for the Bangor Symphony Orchestra, where he oversaw significant growth and championed a focus on community engagement during his ten years of leadership. Brian grew up in Bay Shore, New York, and attended Colgate University. After graduation, he went to Thailand on a Fulbright scholarship. Once stateside again, he worked in marketing and communications roles for various arts nonprofits, and completed his MBA at the University of Wisconsin, Madison. He sees a throughline in his career of building community around powerful experiences, and is inspired by the mission and work of Friends. Brian and his wife Alexandra, a children's book author, are raising three children and hit the trails as a family whenever they can.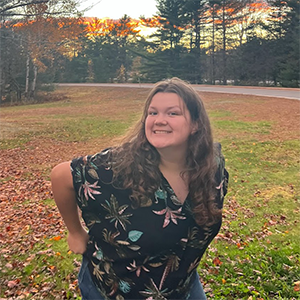 Maggie O'Hara, Sherman, Maine is the Placed-Based Educator for Friends of Katahdin Woods and Waters. She is a Katahdin region local and recently graduated from Katahdin High School. Throughout her years of high school, her passion for connecting with the outdoors grew. She is passionate about teaching youth in a hands-on way. She is excited to start teaching youth about the environment outside of their home and showing them how to connect with it. Maggie is certified in Wilderness First Aid.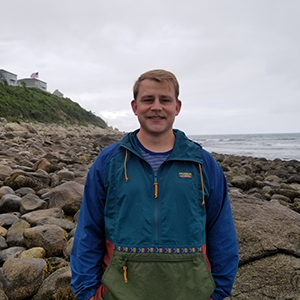 Ruger Pearson, Poland, Maine, is the Operations Coordinator for Friends of Katahdin Woods and Waters. Born and raised in the foothills of the Sierra Nevada mountains with views of Yosemite from his dad's back porch, he has been deeply tied to public lands his entire life. While earning a BA in History from Tulane University in New Orleans, he led student groups on outdoor expeditions exploring the caves, rivers, and mountains of the Southeast. Through his time as an officer in the US Army, Ruger hunted for ducks on public lakes in Texas, and turkeys in the Mark Twain National Forest in Missouri. Ruger has spent the last 6 months working with nonprofit farms, advocating for food justice and regenerative farming models. Ruger chose Maine as the place to settle down with his wife and 2 young children, awestruck with it's natural beauty, abundance of public land, and rich history of connection with the land. In his free time, catch him surfing the coast, paddleboarding the Penobscot, freezing in a duck blind, or hauling a couple of toddlers up a mountain.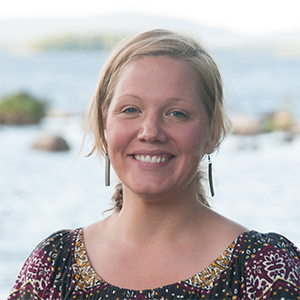 Kala Rush, Sherman, Maine, is the Education Director for Friends of Katahdin Woods and Waters. Kala's love for the outdoors and education began during her work as a Youth Crew Leader for the Montana Conservation Corps and continued while creating educational and volunteer opportunities as an AmeriCorps VISTA at the United Way of Greater Portland. She started her degree in Communications at the University of Montana and finished at the University of Southern Maine, which led to a teaching role in Northern Maine. Teaching in rural schools helped her realize that almost every opportunity can be an educational opportunity and is passionate about finding, facilitating, and sharing place-based learning experiences. Kala loves exploring with her family, hiking, gardening, and antiquing.