Brian's Park Story – The Land Invites Us
Executive Director Brian Hinrichs' relationship with Katahdin Woods and Waters will be familiar to many of our readers. From curiousity to apprehension (the roads! no cell service!) to a genuine connection, Brian's park story takes us through the seasons and stages of discovering places within the national monument that create lifelong family memories.
Over the past several months, my first impressions of Katahdin Woods & Waters National Monument have been slowly taking shape. #Myparkstory is still being written, but it now has a first chapter spanning three seasons and three unique encounters with this landscape that feels more unusual and inspiring with every visit. 
Winter
A few weeks before my second interview to become the Executive Director of Friends of Katahdin Woods & Waters in March, I set off to start exploring the monument.
For years, I had read about the development of Katahdin Woods & Waters with fascination. As a Maine resident since 2013 and regular hiker, I was always enthusiastic about the monument's formation. As a father of three young kids, we tended to stick to more familiar terrain. Acadia was our go-to. Even after hiking Katahdin in 2018, the monument felt intimidating, or confusing. Where to start? 
That crisp, bluebird day back in March ended up being the perfect low-key introduction to Katahdin Woods & Waters. In winter, the monument can only be accessed from the North End for cross country skiing and snowshoeing. I parked at the North Gate and showshoed down to the Oxbow Road back up the Old River Road along the East Branch of the Penobscot River.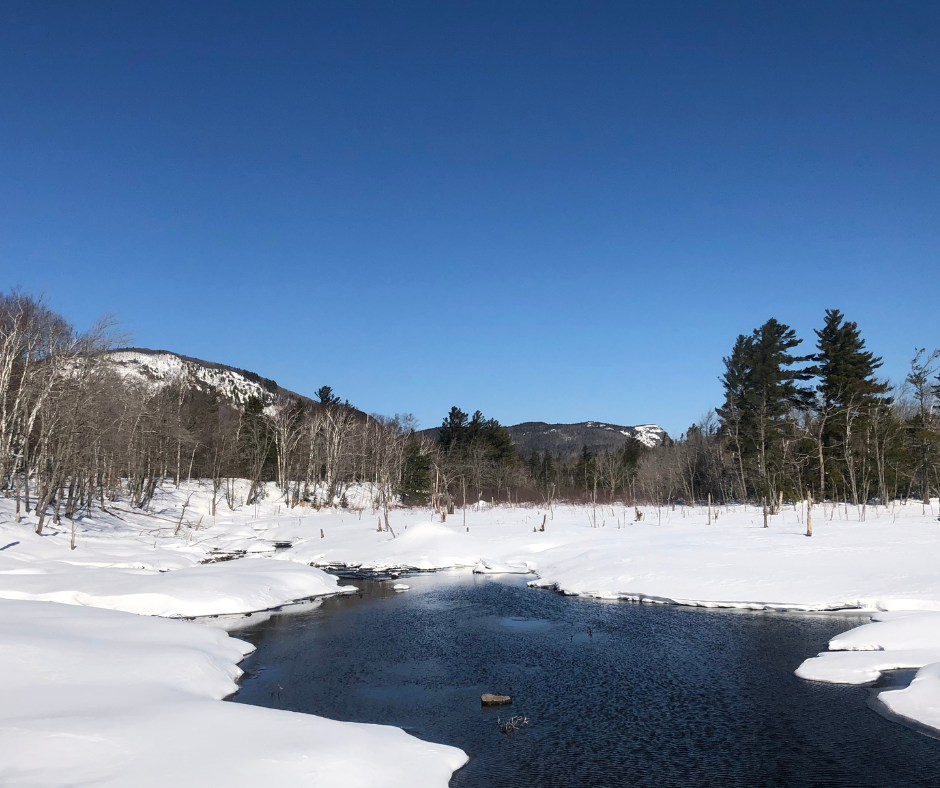 What I encountered was genuine peace, and the feeling that things were possible in this remote corner of the North Woods that were not elsewhere. Lynx and black bear tracks quickly revealed themselves; a light breeze down Billfish Mountain sounded like a slowly cresting wave; the river had a life of its own, inviting pause and reflection at every bend. The scenery was objectively beautiful, but it was the feeling of the place that lingered. 
Spring
Late spring brought the opportunity to start introducing my family to the monument. On the day before Memorial Day, we set out to Barnard Mountain, one of the signature hikes in KAWW. The Loop Road had just opened, and we got to the trailhead a little before noon after leaving Bangor at 9. I was a little nervous about taking our minivan onto the Loop Road, but it did just fine taking things slow and steady.
It was a late-May scorcher and the initial open stretch of road along the International Appalachian Trail brought a series of questions (accusations?) from my oldest, including, "How will you know if I have heat stroke?" After a rough start, a key ingredient quickly turned things around: moose poop! Truly epic amounts of moose poop kept our kids running down the trail, positive a sighting was imminent.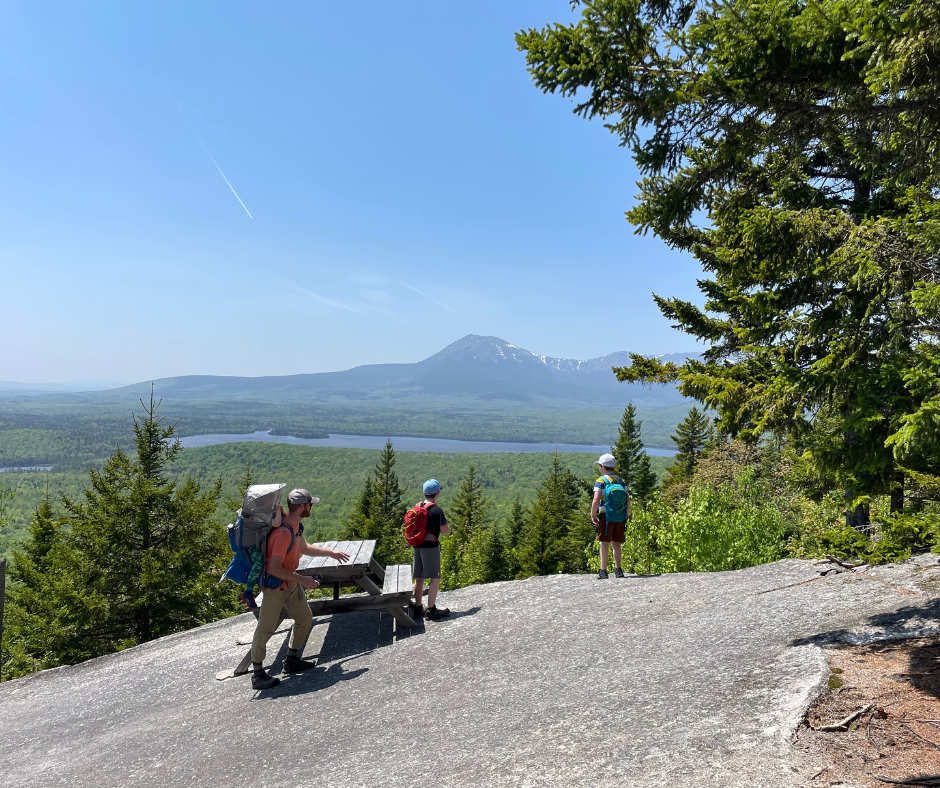 While no one laid eyes on a moose (we are far too noisy for that), the views from Barnard were plenty rewarding. We spent almost an hour at the summit, enjoying an epic picnic and soaking in the unobstructed site of a still snow-capped Katahdin. Here, the wind in the trees was even more pronounced, the only sound for miles.
Summer
Summer has meant frequent day trips to the monument with Friends, but I was eager to plan a camping trip with my older boys. At the end of August, we finally found the time.
I made our reservations on Recreation.gov for a campsite at Lunksoos. We've had great car camping trips in recent years at Lily Bay, Rangeley, and Peaks-Kenny State Parks, but those sites can feel noisy and crowded in the heart of summer. Lunksoos offered the right balance of seclusion and accessibility.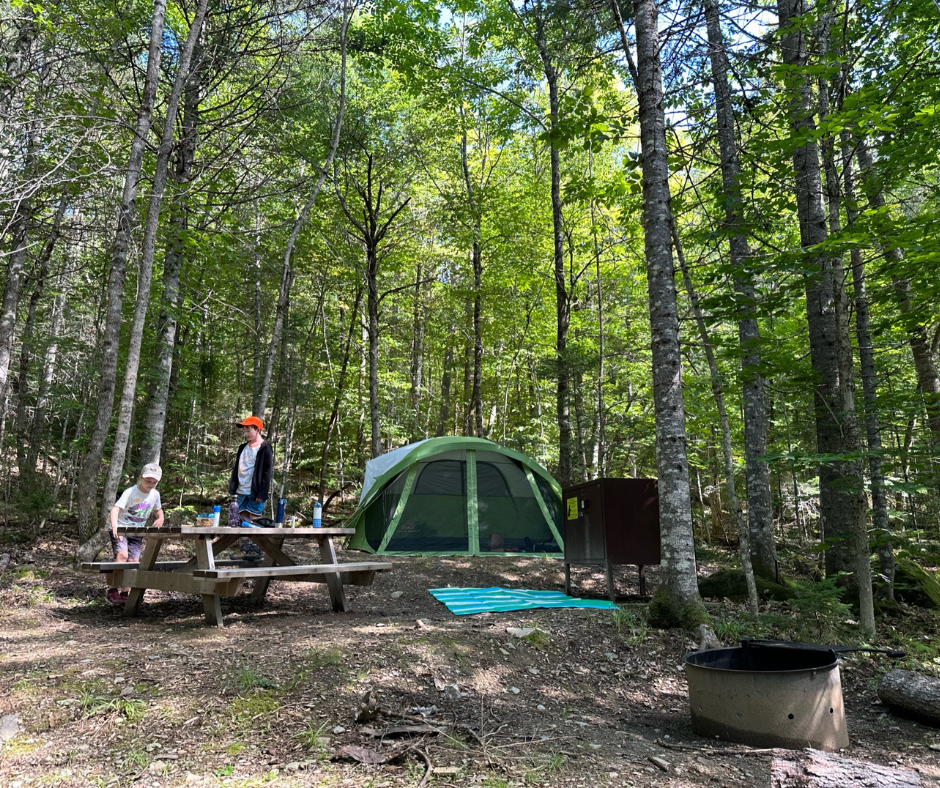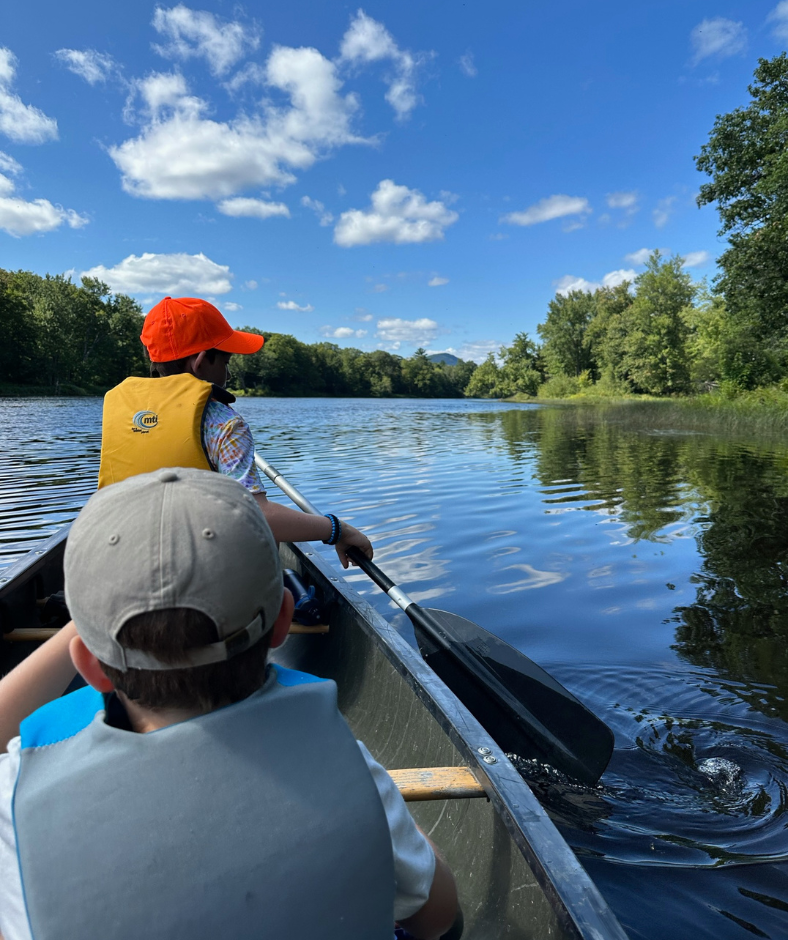 After a short walk in to set up our tent site, we took a meandering afternoon paddle up the East Branch, with stops along the way as inspired. The silver maple floodplain defining this section of the Penobscot again invites pause: slowly floating under arching trunks; scanning dense layers of ferns; listening to that constant shuffle of leaves and limbs in the breeze. At one of our stops, we spotted big, wet, fresh moose prints, putting my older two boys (now 11 and 8) back on high alert. On the way back down the river, the gentle current let us relax even more, spotting beaver dams and jumping fish along the way.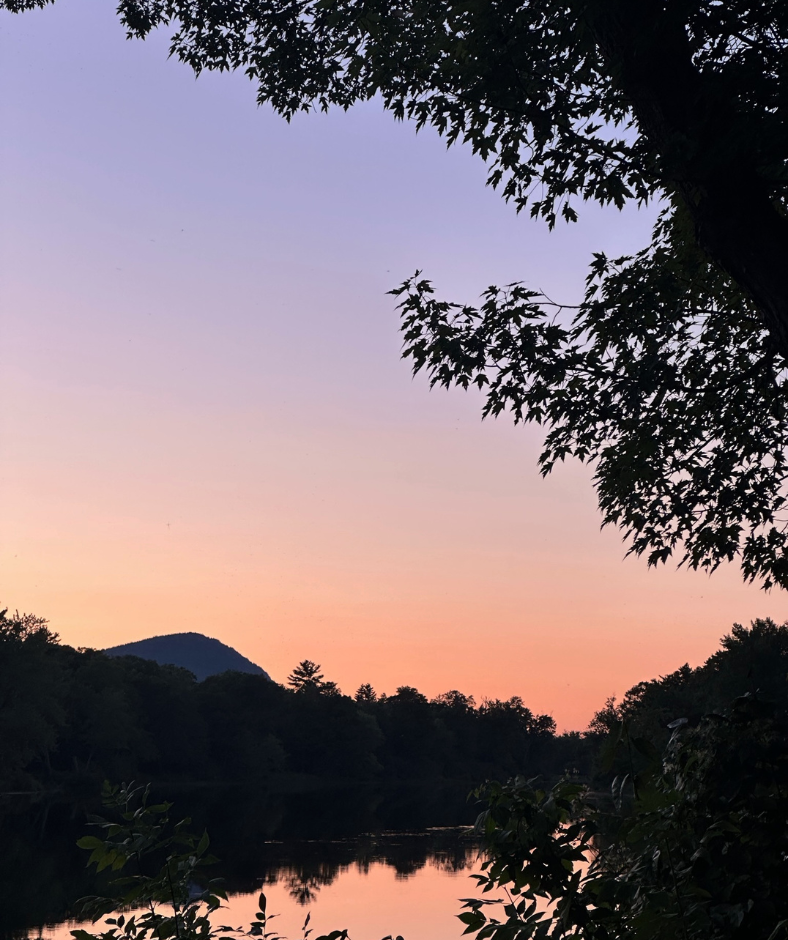 That first night, the skies were clear and we went down to the river to soak it all in. The vastness of the universe can't hide at Katahdin Woods & Waters. Later on, we all passed out, though some riled-up squirrels had fun pelting our tent with pine cones early the next morning.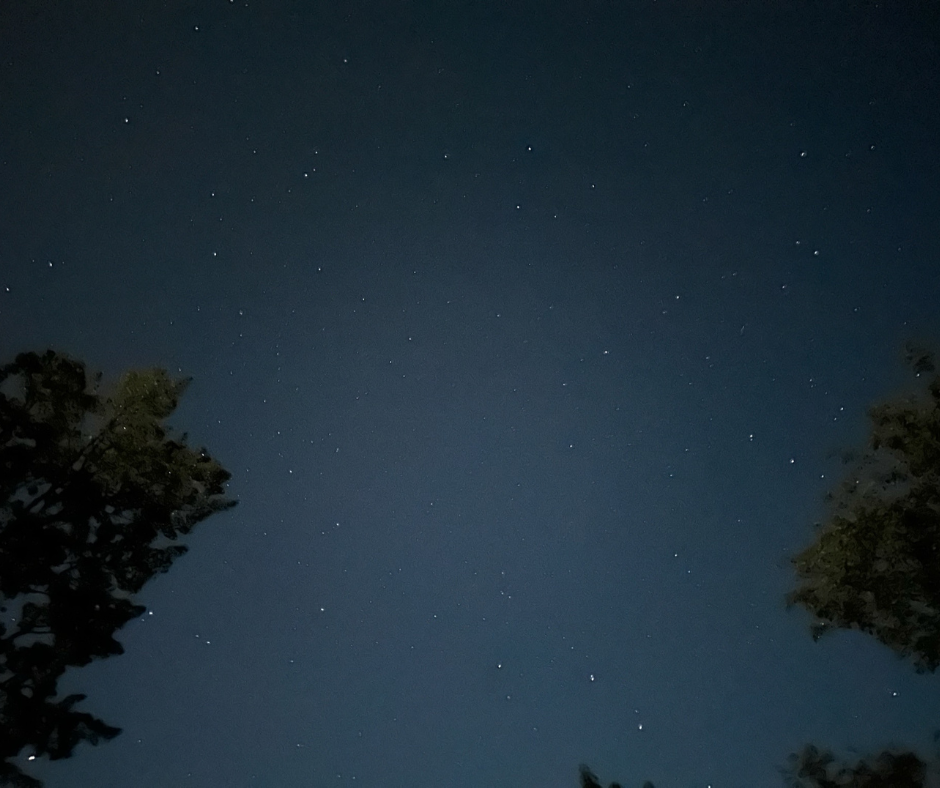 We started the second day with a plan to drive up to Loop Road and hike to Orin Falls. The key to camping and hiking with kids is to keep expectations low and be ready to pivot. One of my boys was struck with a serious bout of car sickness as we were approaching the trailhead; it made me reconsider a six-mile hike on a hot day, with a potentially dehydrated kid, even though the promise of a refreshing swim was tempting. As we set out, I remembered Elise Goplerud, FKWW's Education Coordinator, telling me about a great spot along the trail for some river walking – right under the old logging bridge at the Wassataquoik campsite, about a mile from the trailhead.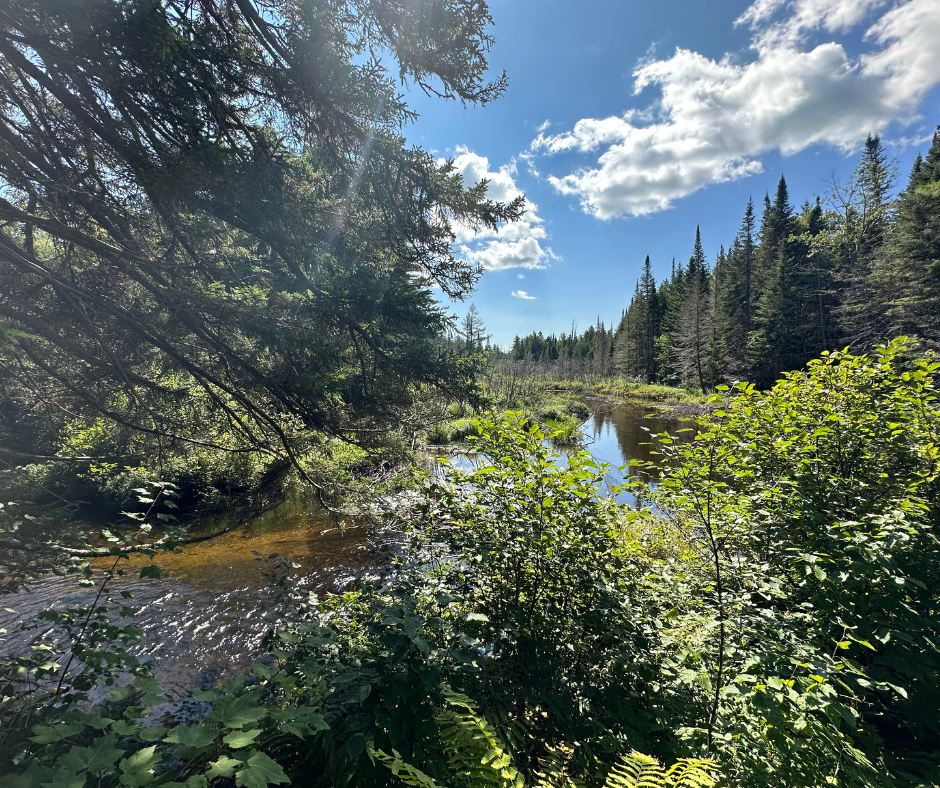 The campsite is nestled along Katahdin Brook as it approaches convergence with the Wassataquoik Stream and is a natural resting point. Given the option to stay and explore, or keep hiking, we all felt good about letting go of the final destination and seeing what the new plan would bring. We suited up and hopped in a chilly Katahdin Brook. Totally alone, we were energized to explore, wading under the bridge, splashing in knee-deep rapids, eventually building up the courage to dunk. Later in the week, back at home, when asked what their favorite part of the trip was, it was this.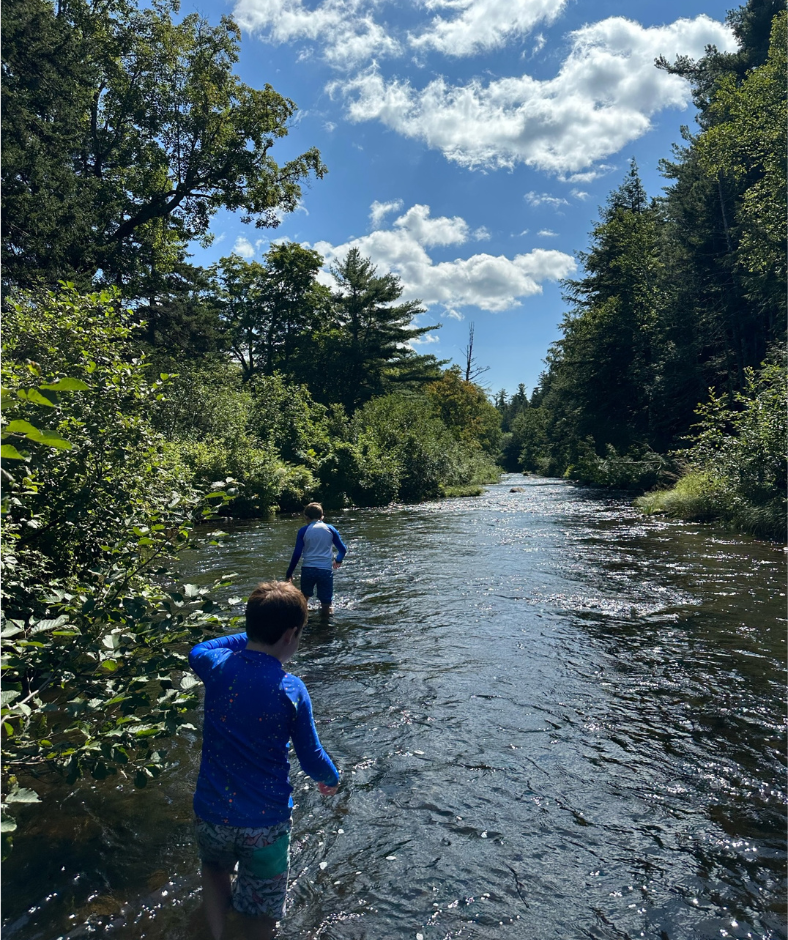 After getting the minivan back up the Orin Falls Road, we made two more stops. In the name of spotting a moose, we put in for a paddle at Sandbank Stream and explored as much as we could before encountering shallow waters and beaver dams at both ends. Continuing along Swift Brook Road, we couldn't resist a quick dip at Whetstone Falls. Back at Lunksoos, we enjoyed a lazy afternoon and evening filled with s'mores.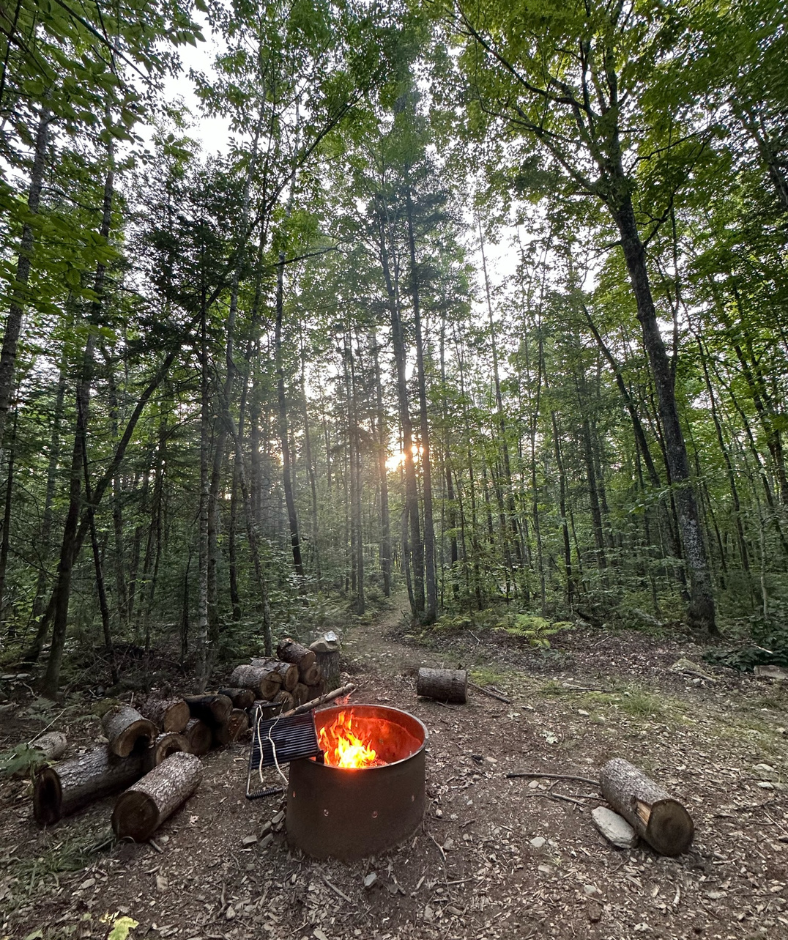 Awaking to rain on our last morning, we decided to take our time packing, getting in one last round of Uno in the tent before the drive to Bangor. It ended up being just about 48 hours in the monument, leaving us all feeling accomplished and still wanting more, which feels like the right balance with kids. 
Look Back, Looking Forward
I didn't grow up hiking and camping. On Long Island, I was a beach kid. A family trip to Yosemite National Park left its mark, but it wasn't until college near the Adirondacks that these excursions started to become a regular part of my life. My 20s in Madison, Wisconsin added kayaks to the mix as we explored the region's ample lakes and streams. In Maine for the last 10 years, my family has grown alongside my passion for being outdoors and exploring – it is something I've been able to share in real time with my family, learning together along the way.
The rustic nature of Katahdin Woods & Waters can present some challenges on the surface, but the rewards are endless. There are no crowds and lines, no stress about parking. The camping infrastructure at Lunksoos is brand new and just enough in all the right ways – thank you, bear-resistant food storage!
And then there is the land itself.
What's unique in KAWW is the feeling that the land will set the agenda for you. It will slow you down, and invite you to stop and look around and savor. This landscape doesn't come with a bucket-list, though we have some bucket-list worthy views. The reward here is the satisfaction of exploration itself. That may make your monument excursion somewhat inscrutable, but it also makes more exploring irresistible.