December eNewsletter
Welcome our new Superintendent, Mark Wimmer! This week, we're excited to welcome Superintendent Sheldon "Mark" Wimmer as the new superintendent of Katahdin Woods and Waters National Monument. We look forward to working with Superintendent Wimmer, the fantastic park service staff, and a diverse community of partners to preserve and protect these woods, waters, and dark skies. To learn more about Mark, read the NPS press release here. You can also read the Friends press release here.
---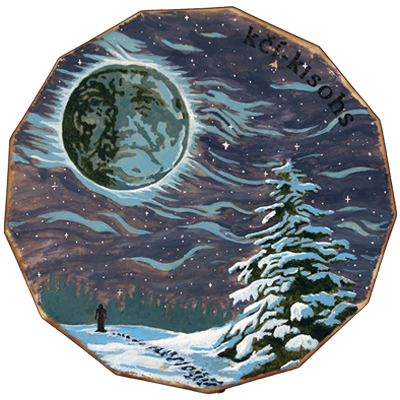 ---
kči-kisohs – Old moon (Penobscot) drum painted by James E. Francis, Sr., Director of Cultural and Historic Preservation for the Penobscot Nation.
New Moon Teachings – Black Ash Basket Making: You're invited to the next New Moon Teachings on Dec 5th from 6 to 7:30 PM EST. This month's New Moon Teachings is about Black Ash Basket Making and will feature studio visits with basket makers. We are grateful to host a panel of Richard Silliboy (Micmac basket maker), Jennifer Neptune (Penobscot basket maker), and Gabriel Frey (Passamaquoddy basket maker). To RSVP for New Moon Teachings, please visit our website.
Get to know your Friends team: Friends staff are passionate about the national monument, the Katahdin Region, and getting outdoors together! This fall, as we ask our members to join us in support of our work, we'll be sharing a little about ourselves and what excites us most about our work. Please visit our Facebook page to read profiles about our staff and the work they do with your support.
—- This blog post was adapted from an email transmitted on December 1, 2021. To sign up for our email list, please email info@friendsofkww.org —-