February eNewsletter
Winter truly arrived in the Katahdin Region a few weeks ago, bringing frigid temperatures, feet of snow, and all the adaptations (and fun!) that residents and visitors make this time of year. Whether you've relaxed into a winter dormancy like our black bears, or joined our river otters in taking full advantage of crisp and sparkling winter days–we have news this month to inspire.
---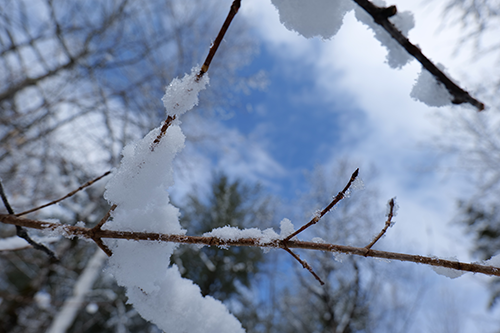 Before the recent thaw, blue skies and bountiful snow above Katahdin Woods and Waters. Photo by Elise Goplerud.
---
Annual Meeting
All are welcome to register now for Friends' Annual Meeting. We hope you'll join us from 5:30-6:30 p.m. on Thursday, March 3rd. Once again we'll host this annual gathering on Zoom. Friends' staff and directors will share updates and a sneak peek of events and happenings coming in 2022. "Meet" new Superintendent Mark Wimmer and National Park Service staff–they will join us with the forecast on park infrastructure, planning, and programming.
February Vacation Kids Camp
Friends' education team, the Katahdin Learning Project, is busy preparing for its inaugural Vacation Camp in Millinocket, partnering with the Katahdin Gear Library. During their February school vacation, local kids will learn while having fun for five days of nature-based programming. This free, full-day camp will cover geocaching, wildlife, wilderness survival, outdoor sports and nature art. A true community effort, volunteers have signed up to teach campfire cooking, hand out scavenger hunt clues, and provide transportation.
Winter #AllInKatahdin Guide
A few warm days can't stop the winter fun–don't forget to revisit our Winter Guide produced in 2021 with your contributions! If you recreate in or near Katahdin Woods and Waters this season, share your adventure on social media tagged with #AllInKatahdin so others can see just how much there is to do–from hut-to-hut snowshoeing and skiing to snowmobile treks and so much more.
Ripple Effect – NPS News and Notes
This month, we begin a new feature in our monthly eNews. As the non-profit philanthropic partner to our National Park Service unit, we strive to amplify the work of our local, regional, and national NPS colleagues, and share inside news from right inside Katahdin Woods and Waters.
Click here to view open NPS Jobs at KAWW!
In February, Friends staff is joining the NPS in making Black History Month an opportunity for learning. We are reading about the achievements, contributions, resilience, and legacies of Black Americans through stories from more than 400 national parks and communities. Follow along for 28 Days of Black History with us, while we challenge ourselves to consider Black stories in the landscapes of Katahdin Woods and Waters.
—- This blog post was adapted from an email transmitted on February 17, 2022. To sign up for our email list, please email info@friendsofkww.org —-