Friends' Lucky Stars (and moon) – October eNewsletter
Clouds part for Stars Over Katahdin, outdoor careers panel, e-Appeal challenge launched, and more…
Just two weeks ago, Friends hosted the 10th Annual Stars Over Katahdin, a community event celebrating Katahdin Woods and Waters' Dark Sky Sanctuary. The weather forecast was uninspiring (surprise: rain), but the clouds parted throughout the day as we marveled at a partial solar eclipse and again at night for stellar viewing of the Milky Way and countless stars, planets, constellations, nebulae, and more!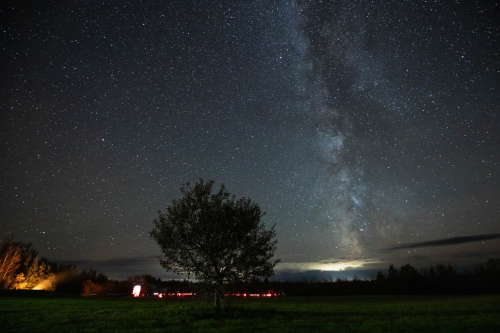 The air is chilly, but our hearts are warm this season with gratitude for the community of astronomers who brought their valuable time, equipment, and expertise to us. We are also warmed by your generosity in response to our October e-Appeal challenge last week! Annual appeal letters are headed to mailboxes soon with moving messages from Rory, a participant in our youth education programs, and Logan, Friends' board member. Both grew up in the Katahdin region and have become deeply connected and committed to the land we now steward as Katahdin Woods and Waters National Monument. I hope you will read their stories, and our news shared here today, and be inspired by all that we can accomplish for this place we love.
---
Stars Over Katahdin Shines
Despite a cloudy forecast, this year's Stars Over Katahdin was a stellar success. During the day, attendees safely viewed the partial solar eclipse, watched a (model) rocket launch, and walked inside a scale model of the solar system. Rangers from Katahdin Woods and Waters National Monument helped orient folks headed in to explore the Scenic Loop Road attractions and recruited some Junior Ranger Night Explorers!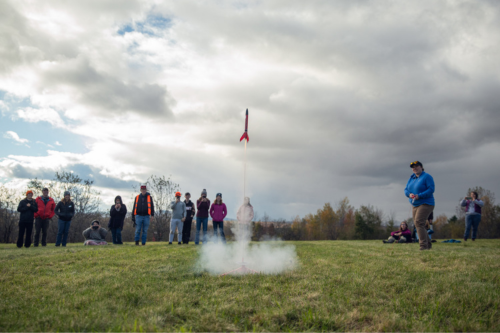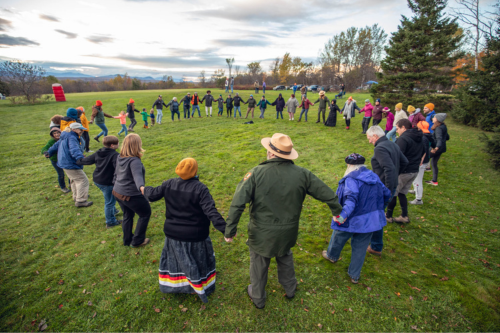 As the sun set, a very special drumming and singing performance by the Turning Eagle Singers brought folks together with joined hands for a circle dance. Kids moved toward the crackling fire as the audience was treated to a lively telling of the mythical Orion, a teaser for the next solar eclipse, and some easy action steps to reduce our own light pollution! Although the clouds moved in and out early in the evening, they moved out to provide amazing stargazing and guided viewing of celestial objects through a variety of advanced telescopes.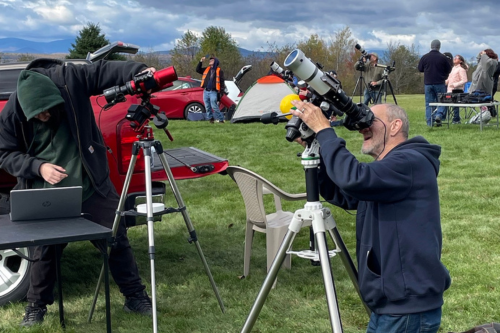 This annual event, now ten years in, depends on generous volunteers who travel from the far reaches of Maine and New England to share their expertise and passion for the night sky. Friends is grateful for the opportunity to share the wonder of our dark skies each year.
To learn more:
International Dark Sky Places Certification
National Park Service – Night Skies 
---
The Future is Outdoors
Friends' education program, Katahdin Learning Project, is opening students' eyes to future careers in the conservation and outdoor recreation sectors. KLP has been providing free, place-based nature learning to schools in the Katahdin region since 2017. As the early cohorts of students have grown, so has our programming–deepening the connections between the landscape, the folks who work in it, and youth in the surrounding communities.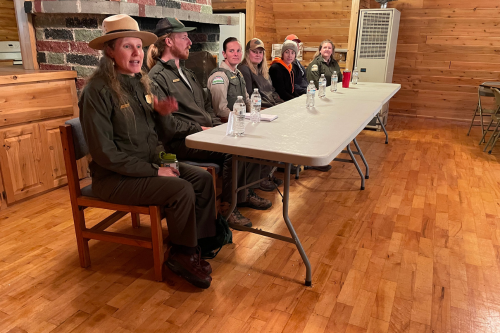 Early in October, seven professionals representing the outdoor sector, including Katahdin Woods & Waters National Monument, Maine Forest Rangers, Baxter State Park, Katahdin Area Trails, Katahdin Gear Library, and Outdoor Sport Institute spoke to Ashland 6th graders at the Island Falls Fish and Game center. The panel spoke about the many opportunities in the Katahdin region. The students listened thoughtfully and asked great questions. At the end of the day, many remarked that they didn't know there were so many outdoor professions, and hands went up when asked if they could see themselves in one of these careers!
The career panel is such a popular concept with educators that KLP has scheduled two more in November, at Southern Aroostook Community School and Katahdin Middle High School, to reach 40 high school students.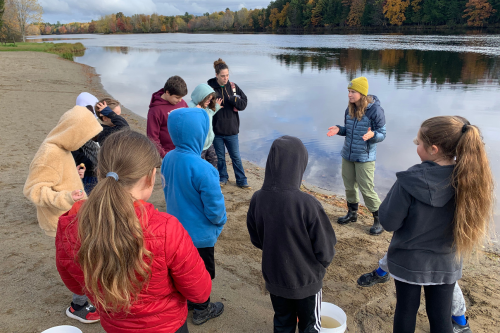 A special program last week introduced East Millinocket School's 4th graders to Shantel Neptune and Maddie Huerth from the Penobscot Nation Natural Resource Department when they joined us for a water quality lesson. Maddie and Shantel talked to the students about their work as water scientists while explaining the importance of healthy water to Penobscot people. Students then turned into community scientists; testing water on the East Branch of the Penobscot River for dissolved oxygen, conductivity, chlorine, alkalinity, and hardness. The fourth graders left with an understanding of how these tests, as well as turbidity and clarity, reveal the river's health and how it is intimately connected to the health of salmon, otters, turtles, and more–including us humans.
---
Update on Wolfden Mining Proposal
As you know, it is not often that Friends of Katahdin Woods & Waters shares an advocacy position. We formed shortly after courageous local, regional, and national advocacy efforts to establish the national monument and when the moment calls for it, we've taken positions to protect this special place. By now, news that a metallic mineral mine proposed for the Katahdin Region has been well-covered, as well as the required rezoning hearings in Millinocket and Bangor before Maine's Land Use Planning Commission (LUPC). Friends thanks the many members, aligned organizations, and concerned citizens who have submitted testimony or spoke at the LUPC proceedings.
Friends' full position statement can be found here on our blog. Written comment on Wolfden's rezoning request will be accepted until Thursday, November 2nd. Learn more about the LUPC process and timeline here.
---
Park News – Know before you go!
Bookmark the Current Conditions page on the NPS KAWW website. Road closures, including seasonal gating (happening soon!), can be found here.
Hunting is permitted (with a Maine state license) on monument lands east of the East Branch of the Penobscot River. These areas are designated in dark green on this NPS monument map. Bear baiting, trapping, and chase dogs are not permitted. Hikers, wear your orange!
Camping – Summer camping will close at the end of the month, but check recreation.gov for more information on reserving the popular Haskell and Big Spring Brook Huts this winter!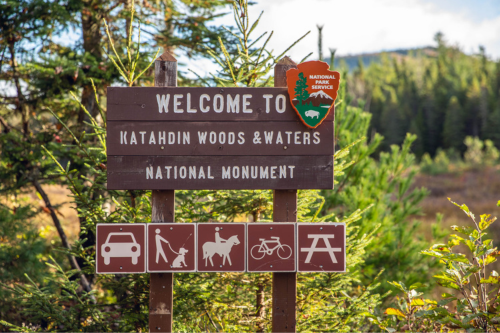 ---
Ripple Effect
If you know the Katahdin region, or have driven through it on the way to the monument's north entrance, you have beheld Patten's historic and prominent 1845 Regular Baptist Church. Down East Magazine peeks inside this unique building and profiles the woman on a quest to save it.
Watch: Maine Public's Borealis episode featuring Nyle Sockbeson's (Penobscot, Passamaquoddy) Appalachian Trail journey. Nyle works for Wabanaki Public Health and Wellness and will join the panelists at KLP's next career panel!
Learn: about Land Back and find further resources from the Bomazeen Land Trust, who believe that "education is the most fundamental element of allyship and liberation."
---
Sponsor Spotlight
Thank you to our Deasey level sponsor, Ktaadn Resorts! Home of the New England Outdoor Center (NEOC), Ktaadn Resorts has grown to include a brewery, event center, and miles of adjacent hiking and mountain biking trails built by Katahdin Area Trails, and is host to many Friends' events.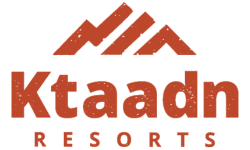 And thank you to Trust for Public Land for their Barnard level sponsorship! TPL works alongside communities across the country to create, protect, and steward the nature-rich places that are vital to human well-being.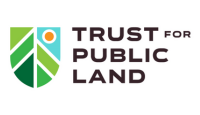 Sponsors provide crucial funding that supports our mission and work. To learn more about becoming a sponsor in 2023, visit friendsofkww.org/sponsorship or contact sarah@friendsofkww.org.
---
—This blog post was adapted from an email transmitted on October 25, 2023. Sign up for our email list at friendsofkww.org/signup