May eNewsletter
April showers bring May flowers… but May brings more than just flowers! May brings newborn moose calves with their gangly legs and awkwardness, fiddleheads and blazing green leaves, relentless chicks begging for food, and swelling water levels in our rivers. What are the signs of renewal and growth that you look forward to each May?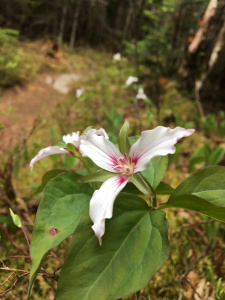 In our forests, spring is a time for growth. And why not also a time for personal and professional growth as well? Read on to learn how Friends is supporting professional and personal growth in the Katahdin region and how you can sign up!
Teacher Camp (in person) – Registration is open!
June 28th-29th 8:00 a.m.- 4:00 p.m. at Taylor's Katahdin View Camps and Campground, Stacyville. Educators are invited to join the Katahdin Learning Project for a two-day workshop to learn how to integrate place-based learning into your lessons. Place-based learning is applicable to all educators, and this two-day workshop is not restricted to just classroom teachers. Participants have the opportunity to pursue micro-badges and CEU's. Register today: www.friendsofkww.org/teachercamp
Wabanaki REACH Training (virtual)- Registration is open!
June 13th 10:00 a.m. – 12:00 p.m. Access to this training is a benefit of your membership and provided free of cost! "This program is an interactive experience in which we engage in a story of particular events in the history of 400 years of colonization of Wabanaki people by Europeans in this territory now called the state of Maine. This highly engaging experience requires our full participation in order to genuinely increase our understanding of colonization and what it means for current descendants and future generations; to reflect on what story we are writing for our grandchildren."  Register for the training here.
Leave No Trace Trainer (in person)
June 23-24th and July 13-14th (Both courses are FULL! Email elise@friendsofkww.org to be added to the waitlist.) Friends is hosting several Leave No Trace trainer courses this year. These two-day courses teach wilderness ethics and minimal impact recreation skills to outdoors people of all experience levels. Friends' Program Associate Elise Goplerud, and Wabanaki Public Health and Wellness Project Venture Team Lead Nyle Sockbeson are co-leading these training sessions for outdoor professionals in the Katahdin region.
Trip Planning
Taking a trip to the Katahdin region and trying something new is great for personal growth! In May, fish are biting and river levels are typically high, though take note, levels this year are running lower than ususal. If you haven't spent time on one of the rivers in Katahdin Woods and Waters National Monument, we can help you plan a trip. May is National Water Safety Month. Prepare yourself for your time on the river by learning about water hazards and water vessel safety. Gates to the national monument are still closed to vehicles due to mud season, but they typically open in late May. You can get the most up-to-date information on the NPS website and now on the NPS App. Download the NPS App here and gain the tools to explore more than 400 national park units. The app can be used to track progress on the river, trails, and roads, even when offline. Be sure to make the KAWW map available offline before your trip. Tip: Track your progress down the river and never miss the portage trails!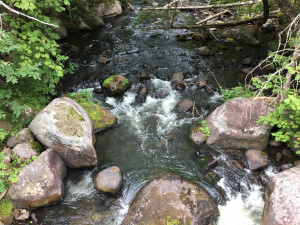 Ripple Effect
As Friends here in the Katahdin Region, we strive to amplify the work of our local, regional, and national colleagues, and bring news to you from Katahdin Woods and Waters and the communities connected to it.
Fiddlers and Fiddlehead Festival- Patten, ME May 21st 11:00 am- 4:00 pm Join us for this local festival on May 21st for good food, amazing music, beautiful crafts and lots of fun at the Patten Lumberman's Museum. You'll be able to catch all of Friends' staff at this event sharing the emcee role, facilitating kids' games, and at our booth. Come say hi!
Katahdin Region Outdoor Trainings – Registration is open!
Friends is collaborating with several other groups in the region to create a collection of professional outdoor training courses in the Katahdin region. This is part of the efforts of the Working Communities Challenge as a way to bolster the outdoor recreation workforce in the region. These different groups will be facilitating courses in swiftwater rescue, wilderness first aid, mountain bike leadership, trail work and several others. Take a look at what is being offered and sign up here: www.outdoorsi.org/katahdin-trainings
Sponsor Spotlight
We welcome Gideon Asen with gratitude for joining us in 2022 at the Hathorn level.

Thank you Maine Beer Company for supporting Friends since 2017! MBC is a true champion in 2022 at the Katahdin level.

Sponsors provide crucial funding that supports our mission and work–such as training, educational programming, and community partnerships. To learn more, visit friendsofkww.org/sponsorship or contact sarah@friendsofkww.org.
—This blog post was adapted from an email transmitted on May 24, 2022. To sign up for our email list, please email info@friendsofkww.org—