My Park Story – Car Camping at the Upper East Branch
Inspired by the National Park Service–we are excited to bring you more stories this year–Your Park Stories! Throughout 2023, we are sharing stories of meaningful place-based experiences in Katahdin Woods and Waters from the NPS, visitors, the Katahdin region, and Friends. Read on as I share my first monument camping trip as a gentle nudge to get out there yourself! Still have questions? Send me an email.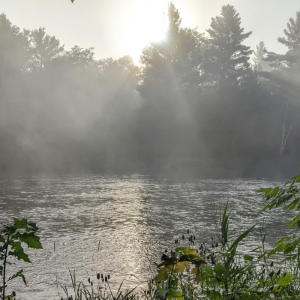 In mid-April, reservations for campsites at Katahdin Woods and Waters National Monument opened for the summer at recreation.gov. Just a couple years ago, all sites at KAWW were available "first-come-first-serve," but having the assurance of a reservation is key to planning a trip with my husband and kids. We live in southern Maine, a solid 3.5 hour drive to the monument. I appreciate the spontaneity of the young and childless (been there) and retired empty-nesters (looking forward to it) but for now, I live a life regulated by calendars: school, sports, camp and work, digital and on paper. The ability to secure a campsite months in advance, put it in the calendars, and arrange 4 people's individual lives around a 3-day trip is a necessity!
If you are interested in a multi-day backpacking, paddling, or cycling trip, you can do that in the monument. But this park story is about packing simply, not thinking too hard, and relaxing with family. I want folks to know that you don't need to buy fancy gear or be an endurance athlete to find joy and connection in this remote and exceptionally beautiful place.
Easy, breezy. I booked the Upper East Branch campsite last May for a three-day trip in August. I spent about 10 minutes and precisely $8 dollars (this is the reservation fee, no matter how long your trip or which site you choose). This site is in the north end of the monument–learn more at the official KAWW site. Tip: install the NPS App before your trip and download KAWW maps for offline use while you still have a connection.
Drive right up. Despite what the sign here says, this is pure car camping. The "walk-in" refers to the fact that you must carry your gear approximately 100 feet. The kids were able to immediately run around and stretch their legs while we leisurely unpacked. Be aware that most campsites at KAWW require a much more substantial hike or paddle to access. A great option for car camping at the southern entrance: the seven tent sites at Lunksoos–including one ADA site.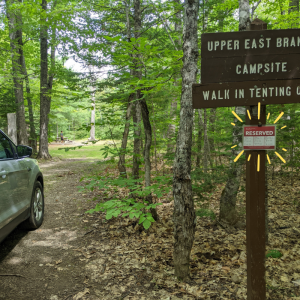 Sorry, Yogi. Food goes straight from the vehicle into the giant steel storage locker. The bear box is a game-changer for keeping provisions organized–and keeps wildlife wild. Note that I recommend a big water jug, as seen here. There are NO sites at KAWW with potable water. Rather than fussing with filtering water, we always bring a big supply of drinking water.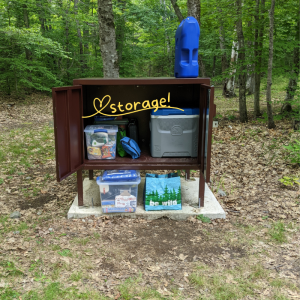 Space to spare. Here you see the distance between our two children's tents–granting a modicum of privacy rivaling that of our 1500 square foot home. This is especially important if your children are actually teens.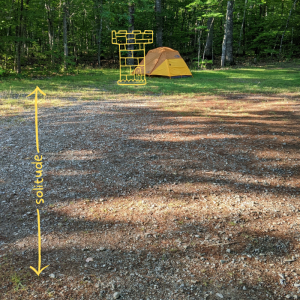 Pressure drop. The East Branch of the Penobscot River runs along the eastern border of the monument's primary parcel. Hike or bike further down the Old River Road to see the rapids of Haskell Pitch, or don't leave the campsite and enjoy the constant burbling of the quick-moving shallow water over stones. It is clear, cold, and the perfect spot to park a camp chair (yes, IN the water) on a hot day. Warm up steps away in the sunny space above the bank.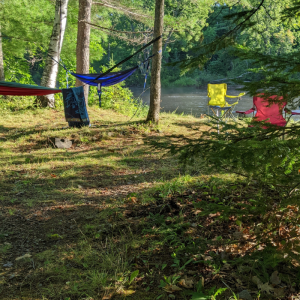 Clean, clean, clean. The national monument may lack many of the amenities of our large national parks, but the reduced traffic also means the new facilities are sparkling. This beauty was a hundred yards or so away from our campsite and accessed only by us during our stay.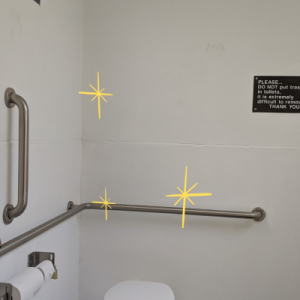 Let it go. Relaxing, unplugging, and shedding the stresses of everyday life: while not ONLY possible here at this site or Katahdin Woods and Waters, the quiet and distance from other people really accelerates the process. The Upper East Branch site is buffered by literal miles from the road and the next site down the river. Here you can see me letting go of folding clothes and "making the bed." Ahhh.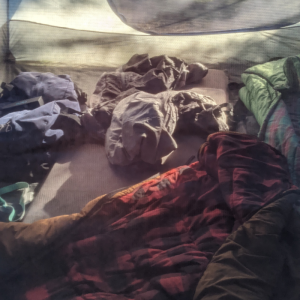 Eat well, defined by the moment. This trip, we didn't bother with a campfire, although I am a fan of cooking hot dogs on a stick. If you DO wish to have a fire, you will need to request a fire permit in advance and purchase firewood locally. Since everything tastes better when you're 1) outside 2) hungry from early morning dirt-road runs, I opted for the ease of just-add-hot-water at breakfast. My son turned 16 on this trip, so we drove out the 17 miles back to Mt. Chase Lodge one evening for a special meal on the lawn at Upper Shin Pond. On our last night, we grabbed a couple of whoopie pies at Matagamon Wilderness to share. (Along with a mood ring, since lost.)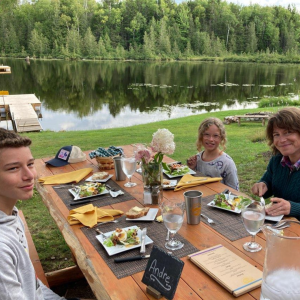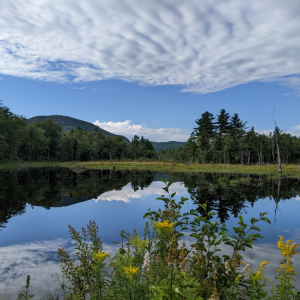 Enjoy the view. Exceptional scenery can be found with modest effort along the river inside the monument and out. We climbed Horse Mountain in Baxter State Park (where the birthday boy enjoyed a few minutes of cell service), strolled to the Oxbow picnic area in the monument, and walked along the world-class Seboeis Riverside Trail to the picturesque gorge at Seboeis River Grand Pitch.
Found time. Seven hours of driving logged on a learner's permit, a collective six books read, and 36 hours with almost no digital connection…We'll be back again to experience that pace. And I like to think a trip like this can help us stay a bit more in the moment even at home the rest of the year. 
Don't forget to be in touch with your questions, and share Your Park Story with the #myparkstory and #katahdinwoodsandwaters. See you on the trail! -Sarah
Sarah Andre is the Development Coordinator at Friends of Katahdin Woods and Waters. She lives in Westbrook, Maine and enjoys visiting KAWW for leisure and work in all four seasons.