Stars Over Katahdin Follow-up
Thank you to all those who signed up for the 8th Annual Stars Over Katahdin, hosted by Friends of Katahdin Woods and Waters and Dark Sky Maine in a virtual format for the second year in a row.
Thank you also to our generous presenters for providing entertaining, educational, and inspiring programs this year: Nancy Hathaway, Dark Sky Maine; John Meader, Northern Stars Planetarium; Serena Sanborn, Waterville Creates; Jason Gablaski, National Park Service; and our own Elise Goplerud.
Our 2021 Stars Over Katahdin virtual presentation was recorded and you can access the entire webinar here on Friends' YouTube channel. Linked below you will find the resources mentioned during the presentations. We hope you will enjoy the program for the first time if you missed it on October 14th, or enjoy taking it in again. Please share with your friends and family by forwarding this email.
Our wish is that Stars Over Katahdin inspires you: to visit Katahdin Woods and Waters National Monument, to learn more about light pollution, or to step outside on a clear night with a pair of binoculars.
Finally, this annual event wouldn't be possible without our members. Your support makes programs like Stars Over Katahdin possible. Member support also brought hands-on astronomy programs to 157 students in seven Katahdin Region elementary classrooms–inspiring the next generation of night-sky enthusiasts and protectors!
Resources from our presenters: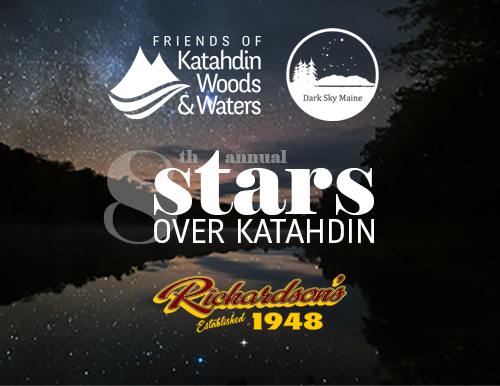 Stars Over Katahdin was made possible with generous support from Richardson's Hardware and Celestron. Thank you!
—- This blog post was adapted from an email transmitted on October 29, 2021. To sign up for our email list, please email info@friendsofkww.org —-