Just around the corner – March eNewsletter
Spring snow, inspiring women, vacation camp, a new ranger, and more…
March is upon us with all its charms–longer days and strong afternoon sun lures even the coziest cabin-dwellers out for fun in the soft, sticky snow. Soon snow will yield to mud, and the next season of trail stewardship and maintenance will begin. Migratory birds are navigating home, and our spring membership appeal letter will be taking flight soon as well. As you hang up your snowshoes and tuck the woolens into storage, be sure to look for a letter from Friends of Katahdin Woods and Waters arriving in your mailbox.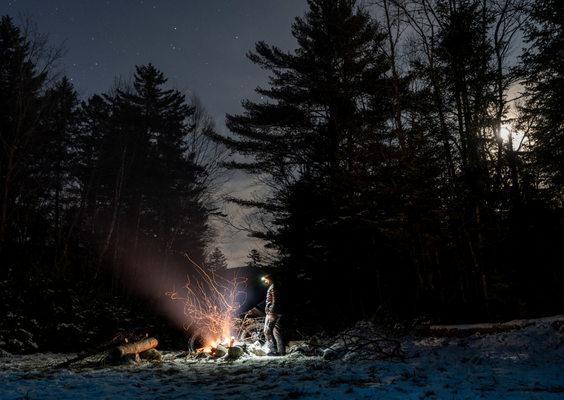 ---
Your OUR Park Story
For this month's #myparkstory, the female staff at Friends are joining the National Park Service in recognizing Women's History Month! Because conservation, science, and outdoor recreation jobs are filled mostly by men, it's important to highlight the stories of the women who've inspired or mentored us. We challenge you to think about a woman who inspired your path to the outdoors, and share her story with a young person in your life.
Sarah – I found that I could make a difference in conservation and get more youth outside in nature by volunteering locally on the Presumpscot Regional Land Trust's board. The executive director always encourages me with her words and example to stretch my leadership skills in and out of the boardroom. Rachelle, thanks for showing me it doesn't have to be a boy's club!
Elise- My 3rd grade teacher, Mrs. Kaplan, showed me that learning takes many shapes. We weren't just 3rd graders- we were explorers, artists, builders and scientists. The most important lesson I learned that year was caring for our mother earth–in fact, it inspired my career today. It's now my turn to teach the next generation empathy and compassion for this amazing planet we live on. Who knows, maybe I'll inspire someone the way Mrs. Kaplan inspired me!
Meghan – Some of my earliest connections to nature were through the creatures that visited my family's field and gardens and my mother's enthusiasm in teaching me about them. Bluebirds, tree swallows, and more inhabited the birdhouses on my family's property, and we watched generations of new birds leave their nests and fly into the big, wide world outside. Today, I cherish every interaction with the natural world, whether it's in my own field or on a trip into the monument. My mom is still the first one I text when the snow buntings visit in the winter or when I see the first swallows (tree, barn, or cliff) of the spring!
Kala – My mom, Cindy, taught resilience by showing me that any outdoor space was a place for a walk and self-care. My grandmother, Anita, shared her love of gardening, flowers, and hard work. More recently, colleagues and mentors Julie Isbill and Susan Adams encouraged me to connect the next generation with nature here in the Katahdin region, where I have the privilege of watching students grow. I'm especially inspired by strong young women like Silvia, who encompasses kindness in all spaces, including as a volunteer with KLP!
Who are the women who nurtured your passion for conservation, outdoor education, or Katahdin Woods and Waters? Join us on social media: post your story on Facebook and Instagram with the hashtags #myparkstory and #katahdinwoodsandwaters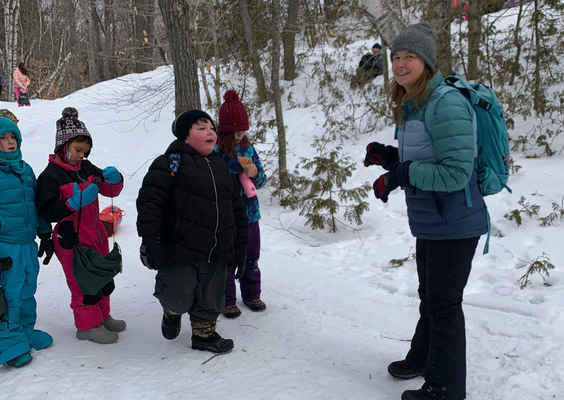 Vacation Camp – What are the impacts of four days of place-based education? Empathy towards living beings, a love of the outdoors, care for ourselves and each other, and stewardship of our communities and the environment. Last month, Katahdin Learning Project staff delivered the second annual February Vacation Kids Camp! This week-long program provides a safe, educational, and FUN experience for local kids at no cost during the school break. Walking through the woods was a highlight for many of the children, and at the end of the walk, they had a different perspective on wintertime. Winter is not a time to endure, but a time to enjoy. Vacation Camp is made possible through collaboration with the Katahdin Gear Library (a program of Millinocket Memorial Library) and Outdoor Sport Institute, community support, and members like you! Psst–registration for April Vacation Kids Camp will open April 3rd.
UMaine Library receives the W. Kent Olson Conservation Papers – Ken Olson, a board member from 2017 to 2019 and a charter member at Friends of Katahdin Woods & Waters, has donated his professional papers to the Fogler Library at the University of Maine. Ken's papers span a three-decade career in conservation with time as chief executive at three nonprofits: The Nature Conservancy of Connecticut, American Rivers, and Friends of Acadia. As a leader and advocate for Friends of Acadia and Friends of Katahdin Woods & Waters, Ken has done much to foster kinship between our two Friends' groups and parks. We thank Ken for this gift and are grateful to know his sharp writing and thinking are archived in good hands at UMaine.
Park Service News
As of the end of February, the monument has seen approximately 8,000 snowmobile visitors, with a few weeks to go! Local snowmobile clubs groom park trails, which are part of Maine's larger Interconnected Trail System.
Katahdin Woods and Waters' first Resource Protection Ranger, Benjamin Polloni, reported for duty on February 26th, 2023. He has been in the field and working on plans for the upcoming field season. Ranger Polloni will serve as the point of contact for commercial use authorizations and communications with law enforcement agencies in the area.
Are you looking for a new job or summer job? NPS is hiring for a variety of positions! See all current opportunities here: Work With Us – Katahdin Woods and Waters National Monument
Ripple Effect
We know it's coming…mud season! Be prepared and make smart choices for spring hiking excursions with this nifty guide chock full of videos from Leave No Trace. Friends is proud to be an LNT community partner.
The Nature Conservancy Magazine examines the institutional and cultural barriers keeping many women from participating in or leading conservation efforts–and how we can change that.
Bookmark this Katahdin region cross-country ski round-up for next season! There is a trail network for everyone, from beginner to advanced, with your kids or your best (furry) friends. The secret of this beautiful Nordic skiing destination is out. Plan accordingly.
Sponsor Spotlight
It's the beginning of our 2023 sponsorship year, and to kick it off, we are sharing our gratitude with two very special sponsors who make it possible for Friends to reach a statewide audience with our mission and highlight our other Katahdin, Lookout, and Deasey sponsors in print and digital ads!
Thank you to Lookout sponsors: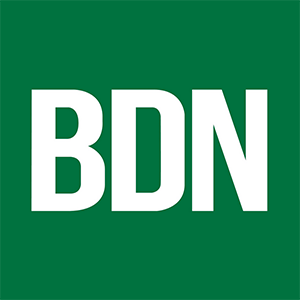 Would you like to see your business logo in our BDN and Down East ads this year?
Sponsors provide crucial funding that supports our mission and work. To learn more about becoming a sponsor in 2023, email sarah@friendsofkww.org
---
—This blog post was adapted from an email transmitted on March 20, 2023 . To sign up for our email list, please email info@friendsofkww.org—