Trip Report: Staff Trip to Haskell Hut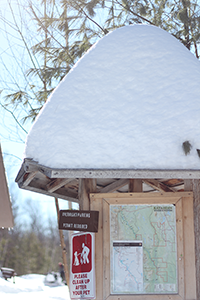 Presidents' Day weekend, the full staff of the Friends of Katahdin Woods and Waters (all four of us!) headed into the north end of the Monument for some quality time together. I just came on as the new Friends Membership Coordinator at the end of January, so I was excited to spend a few days with my new colleagues and, of course, for the opportunity to do some skiing and snowshoeing in the Monument.
Though I lived in Millinocket for a year, I have yet to explore the Monument as fully as I'd like to. On the bright side, this means that I can still experience a lot of the beauty and splendor of Katahdin Woods and Waters for the first time! As we set out on our trip, I was particularly looking forward to stretching my cross-country skiing muscles and enjoying the bountiful snow up north. Leaving Portland, the scraps of snow on the curbs were dirty, icy, and uninspiring. By the time we turned off the highway in Sherman, though…wow. I have to admit, the enormous banks of snow and pristine-looking snow-covered hills and mountains are impressive, no matter how many times you've seen them.
After spending the night with our friends and Monument partners, Susan and Mark, we got a good start on Sunday, filling up with a fantastic and hearty breakfast at Shin Pond Village. Swallowing another cup of coffee and staving off the urge for a post-brunch nap (that might have just been me), we headed out over the winding roads to Matagamon Gate, parked, and loaded up our packs and ski pulks. We had a quick photo op and waved goodbye as Susan, Mark, and fabulous VIP Connie headed off to groom and break snowshoe trails elsewhere in the Monument. We were ready to go!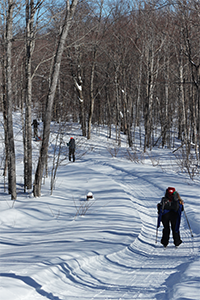 …Except that, for some reason, Sam and Kala's skis decided to be difficult, refusing to latch into their ski boots. It looked like it was going to be a long snowshoeing trip for the two of them until, by a fortuitous twist of fate, someone suggested they switch skis and see if that worked. Kismet! Providence! Snap, snap, snap, snap, their boots latched right into the switched skis (we make a good team), and we were ready to go.
Off we went, skiing down the beautifully groomed trail toward Haskell Hut, our home for the next two nights. I wouldn't call myself an expert skier, but I grew up skiing about on cross-country skis in the winter in my family's backfield. Compared to breaking trail in a field (or "generously" letting my older brother go ahead of me to break trail), the groomed trails of the Monument are a dream! Of course, it was the beginning of the trip and I had lucked out and wasn't dragging a ski pulk, but I felt light and zippy as we headed off down the Messer Pond Road. The air was crisp and cold, but the wind was calm, the sun was bright, and we were warmly dressed, so it was very comfortable skiing. We paused to look at Billfish Mountain, sparkling in the brilliant sunshine, but continued on soon so that we could reach our destination and drop our bags.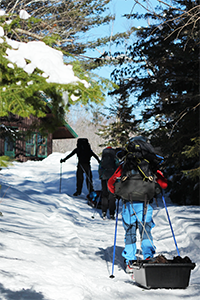 We reached Haskell Hut in good time, with a couple of hours until sunset. Kala soon had a fire built up in the woodstove, and we grew warm and comfortable in the hut. We briefly considered going out again for a late afternoon/evening ski, but the coziness overtook us, and we decided to stay in, make some dinner, and relax for the evening. Before long, Andy had whipped up a fantastic meal of pasta with shrimp and vegetables in a creamy sauce that would not have been out of place at a fancy restaurant. We sopped up every drop of the extra sauce with some bread I'd brought along and soon leaned back in our chairs, well fed and contented.
The next morning, after some expertly-brewed coffee, sizzling bacon, and maple-y oatmeal and from Kala, we set out for a day of adventure. We decided to leave our options open, but we brought along our day packs and a ski pulk with our snowshoes so that we could try to snowshoe up to the Lookout. Shortly after we left Haskell Hut, we encountered some friendly skiers, who told us that the trail up the Lookout had not, in fact, been broken, but that they had broken trail along the river on the IAT down to Grand Pitch. We took a pit stop at Haskell Rock Pitch to take a good look at the river. We stayed cautiously back from the edge, uncertain how sturdy the snow was. It would have been an early, cold, and dangerous end to the day if someone fell in! We continued skiing out until we met the broken trail following the IAT along the river, then ditched the pulk and our skis and switched over to snowshoes, heading out through the woods.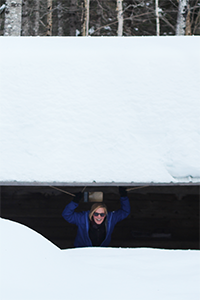 Switching to snowshoes was a good choice, as there were some downed trees that would have been difficult to negotiate on skis. With the trail broken for us, though, we were able to snowshoe quite comfortably. We made our way past Pond Pitch, marveling at the power of the churning river whenever we had the chance to look out through breaks in the trees. We reached the Grand Pitch lean-to around lunch time and took some pictures of the massive piles of snow covering it. This was where the easy path ended, but we wanted to go just a little further so that we could get a good look at the river while enjoying our lunch. We snowshoed a little bit farther, and I began to appreciate just how kind it had been for the skiers we met to have broken trail for us. It was slow going without a packed trail! We made it down to where we could see the river, packed down a circle with our snowshoes, and settled in for lunch.
We didn't linger long, as the chill set in quickly. After filling up with fuel for the afternoon, we turned back. The return trip felt much quicker: we'd hit our stride, the trail was packed down more firmly, and the territory was familiar. When we reached the groomed trail again, we switched back to skis and headed back to Haskell Hut.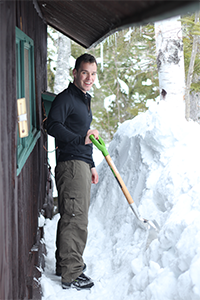 Before dark, we cleaned up some of the snow around the hut, digging a path to the propane tank, clearing off the picnic table, shoveling out the woodshed, and refilling the stock of firewood for the next travelers to come through. As evening fell, Andy made another fantastic meal—a hearty chili with all the fixings—and we settled in for another cozy evening. We were just shy of the full moon (on February 19), but both nights were so clear, the moonlight flooded over the snow outside and made it seem almost like daylight. At night, it was probably lighter outside than inside the hut, where our activities were lit only by our headlamps.
Tuesday morning, it was time to head out. After more delicious oatmeal (and good, strong coffee) from Kala, we tidied up the cabin and packed up to go. It was my turn to pull a ski pulk now. I lucked out in that I got the lighter one, packed mostly with snowshoes. As someone with little experience pulling a ski pulk, I have to say that it takes some getting used to! The stability improved when we crossed the ropes, and I was surprised by how quickly I adjusted to pulling the sled behind me.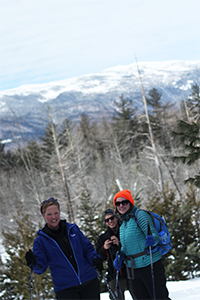 On our way out of the Monument, returning on the Messer Pond Road the same way we came in, we encountered two other skiing parties (and some new Friends members). I was struck by the vastness of the Monument at several times throughout our trip. There were several parties of friendly skiers we encountered over the three days of our trip, but we also encountered long stretches of solitude, during which we simply enjoyed the beauty of our environs, the peace of not checking emails, and the pleasure of each other's company. We were on some of the most well-trafficked roads of a National Monument, but I felt that we had been granted access to something really special and, in some ways, still quite wild.
As we skied the last stretch toward Matagamon Gate, I felt exhausted and refreshed—exactly what you hope to feel after a few days in the woods. I also felt lucky: not just that the weather had been so beautiful and that I had somehow landed this incredible job, but also that we had the opportunity to spend the past few days enjoying the land, the time together, and the beauty of the Monument. I returned home that night (to a long-awaited warm shower and a very comfortable bed), vowing to prioritize this kind of trip more frequently.

If you have any questions about our trip or about other trips you are considering, feel free to reach out the staff of Friends of Katahdin Woods and Waters at info@friendsofkww.org. If you are interested in learning more about taking your own overnight wilderness adventure, please reach out to Susan Adams, Recreation Manager at Elliotsville Plantation, Inc, at lunksoos@gmail.com.
Meghan Cooper, Membership Coordinator