National Monument Friends Update August 2017

It's been a busy year since Katahdin Woods and Waters National Monument was designated. Learn how you are helping us preserve and protect the outstanding ecological vitality, beauty, and all that is special about this irreplaceable Natural wonder. 
August 2017 Update
Dear Friend,
It has been almost a year since Katahdin Woods and Waters National Monument was designated. What a busy year it has been! Our non-profit Friends of Katahdin Woods and Waters group has been established and we have just completed our first project – an Interpretive Map for the Loop Road. Thank you for joining us as a founding member!
Loop Road Interpretive Map: Visitors to the Monument can now obtain a free Interpretive Map for the Loop Road. This map describes some of the historical, biological, and geological points of interest along the Monument's 16 mile loop road and highlights recreation opportunities including hiking, biking and birding. The Interpretive Map is available free at the Monument's Millinocket and Patten Visitor Contact Stations, at the Katahdin Area Chamber of Commerce, at many businesses in the region, and along the Loop Road. It can also be down-loaded here.
Come Celebrate! You and your friends are invited to a party on Friday, August 25, from 5 – 8 pm, at the New England Outdoor Center to celebrate the Monument's first birthday! See more details and get your tickets here. Bring your friends and join us for an evening of fun, which will benefit the Friends of Katahdin Woods and Waters.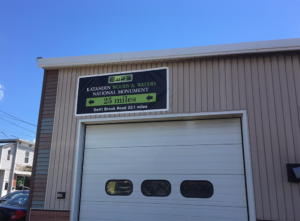 You CAN get there from here! Governor LePage has refused to allow the National Park Service to put up signs directing visitors to the Monument. However, people across Maine have put up their own! And people are going. The National Park Service reports that as of early August, 3,500 cars had traveled on one of the Monument's roads since the roads were re-opened in late May/early June.
National Monument Review: On April 26, President Trump signed an Executive Order directing Secretary of the Interior Ryan Zinke to "review" 27 National Monuments, including Katahdin Woods and Waters (KWW). A public comment period followed. Over 99.96% of those who filed comments supported the Monument. Secretary Zinke visited the monument in June and met with many local supporters, including many business owners. The Board of Friends of KWW filed strong comments in opposition to any changes to the Monument. We are anxiously awaiting the Secretary's decision which is due by August 24.
Getting Organized: The Friends of Katahdin Woods and Waters is off to a strong start. Since January, we have: become incorporated, recruited a highly qualified board of 16, received our tax-exempt status determination from the Internal Revenue Service, attracted over 250 founding members, completed our first project for the Monument, and, most recently, contracted with Elaine Tselikis to provide part-time communications and administrative coordination for the organization. Feel free to contact Elaine if you have questions or comments.
Volunteer Registry: Many of you have notified us through our website or by email about ways you would like to help. As a result, we have created a database of volunteer supporters. If you are interested in sharing your skills and expertise, please register here. We can then match up interests with action on future projects.
As summer winds down and our thoughts turn to autumn, we encourage you to visit the Monument. It is beautiful in every season!
Again, thank you very much for being a founding member of Friends of Katahdin Woods and Waters. While there will undoubtedly be challenges ahead, we are optimistic and look forward to contributing together to the success of Katahdin Woods and Waters National Monument.
See you on the trails!
Lucas St. Clair
President
Friends of Katahdin Woods and Waters