Greetings from the executive director, a monumental campaign, gates open, and more…
My name is Brian Hinrichs and I'm writing to you as the new executive director for Friends of Katahdin Woods and Waters. I want to start by thanking the incredible staff and board of Friends for the warm welcome over the last few weeks, and express my sincere excitement for what's to come–including meeting many of you! Now in my third week, it is clear I have joined the organization at a time of significant growth and opportunity, as our big announcement earlier this week makes clear (read more below!). With gates opening, trees budding, and Friends planning their spring and summer adventures, there is much to look forward to.
See you on the trails,


Brian Hinrichs, Executive Director
---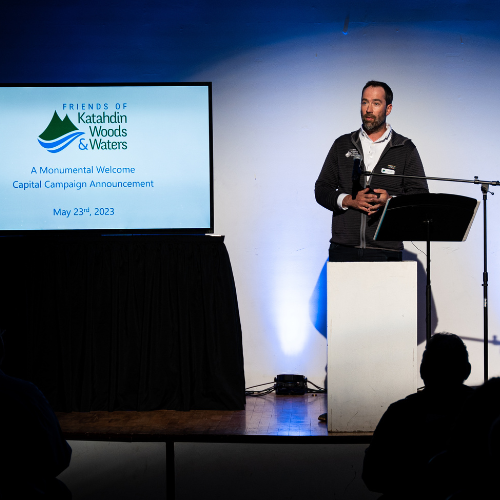 Capital Campaign Announcement – Friends, together with Elliotsville Foundation, Inc., the NPS, and a Wabanaki Advisory Board, gathered in Bangor with lead donors, partners, and members on Tuesday. In case you haven't seen the news, we announced the launch of A Monumental Welcome, a $35 million fundraising campaign for Katahdin Woods and Waters National Monument. The campaign has three goals: providing funding for a contact station, priority park projects, and Wabanaki-directed projects. Read the official press release here on our blog. We invite you to be a part of giving every visitor A Monumental Welcome; to learn more, please contact Development Director Meghan Cooper at meghan@friendsofkww.org.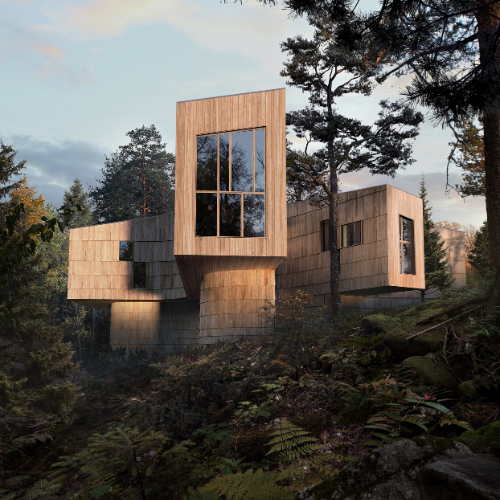 ---
Visiting in Spring – 
Spring at Katahdin Woods and Waters is a special time. Black flies have arrived along with the trillium, trout lilies, and fiddleheads. All are reasons to celebrate the resilience of the Maine woods! Did you know: black flies require clean, moving water to breed? The East Branch watershed provides ample and ideal habitat for the larvae, which are important food for fish, turtles, and tadpoles. When the flies mature, our native birds and bats depend on them as a food source.
Fortunately, on the water is one of the best places humans can find some reprieve from the maddening swarms. In spring, the rivers run high and swift, providing excitement perfect for experienced paddlers at the northern end of the river. Kevin Slater of Mahoosuc Guide Services has been running the East Branch since 1973, and cautions that only experienced paddlers comfortable with rapids and carries should attempt the stretch from Matagamon to Bowlin–or employ the services of a guide. Friends' Projects Director Sam recommends the trip from Lunksoos up to the Seboeis River confluence and back anytime from now through foliage season for an accessible day trip with no rapids! For more inspiration, contact elise@friendsofkww.org for suggestions and a digital "in-progress" version of our Three Rivers Paddling Guide.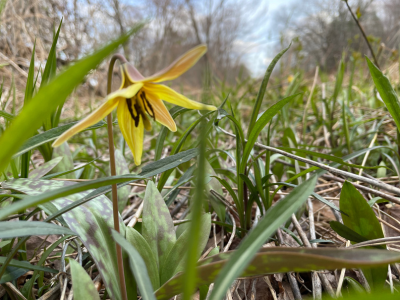 ---
Learning and Growing – Friends' Katahdin Learning Project is abuzz this season, providing empowering, place-based experiences in the national monument and our communities.
Friends' place-based education team and the Millinocket Memorial Library did it again! During their April school break, thirteen local kids spent four full days steeped in community engagement and service learning with KLP staff and community volunteers. Campers visited the Boreal Theater, planted spring flowers, and cleaned up a local trail on Earth Day. The Friends mission states a commitment to the communities of the Katahdin Region, and we believe that authentic community engagement is key to building a strong sense of place. We are proud to share that our intern for the week, Rayne, is a local high school student who is now inspired to pursue a career in outdoor recreation in the Katahdin region.
We are celebrating Education Director Kala's successful grant proposal to the Maine Department of Education. Funds awarded this summer for increased staffing and capacity will significantly bolster and expand KLP programming. We are honored to join a distinguished group of non-profit organizations around the state to provide free and fun programming that encourages 6-12th graders to consider career pathways in Maine's North Woods. Thank you to Syntiro for your partnership on the grant submission and programs this summer. As a result of this grant, we are able to hire a high school student as a summer place-based educator to assist on KLP programs as well as help them build their career in the outdoor industry.
Education staff are stoked to join regional partners comprising the Katahdin Region Outdoor Collaboration to provide accessible youth adventures this summer! These six programs will provide students in grades 7-10 free or affordable opportunities to gain outdoor skills in hiking, backpacking, paddling, and more–in a supportive and welcoming space for all.
Friends' annual Teacher Camp will be held this year on June 20th at the Stewart Learning Center in Lincoln. This year's camp will offer educators a deep dive on integrating Wabanaki studies into school curricula, the purpose and history behind LD 291, and participation in a Wabanaki REACH training session to deepen their understanding of Wabanaki history and present issues. Teacher Camp is open to all Maine public school educators. Registration is required and scholarships are available.
---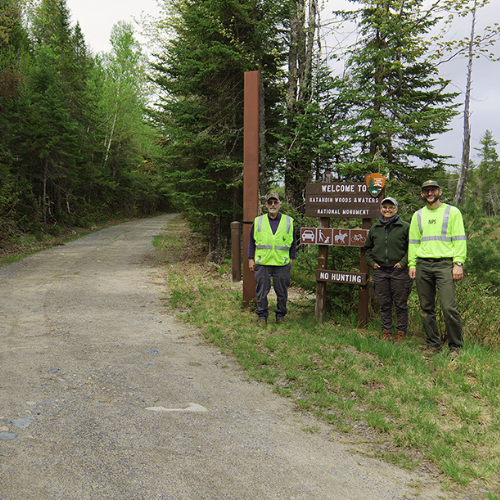 Park News
All gates to Katahdin Woods & Waters, including the Loop Road, will be open May 26th, in time for Memorial Day weekend. Many of the roads suffered winter damage, and the NPS maintenance crew is working hard to correct those issues. Driving slowly and mindfully will ensure your safety and increase your chance of spotting wildlife.
There are several year-round, seasonal, and intern positions with NPS open right now. Follow your passion and apply today! Learn more at nps.gov/kaww/getinvolved/workwithus
Download the NPS App

to access an interactive map with hiking trails and portage routes, updated park alerts and information, and tips for places to see and things to do at Katahdin Woods and Waters and 400 other national park units.
---
Ripple Effect
You love trails, so get ready for your month…June is Love Maine Trails Month, hosted by the Maine Trails Coalition. Learn about volunteer opportunities and why trails matter. (Spoiler: outdoor recreation contributes $2.9B to Maine's economy annually!)


---

Sponsor Spotlight

This month we thank our Katahdin level sponsor, Richardson's Hardware. A longtime and generous Friend, Richardson's is not only the place for hammers and potting soil, but bug nets and kayaks, too.

Sponsors provide crucial funding that supports our mission and work. To learn more about the benefits of becoming a sponsor, visit friendsofkww.org/sponsorship or contact sarah@friendsofkww.org.
—This blog post was adapted from an email transmitted on May 26, 2023. Sign up for our email list at friendsofkww.org/signup.